The Strategic Business Partner Online Course

Unlocking the potential in every senior Assistant
Learn the skills and strategies to create a successful business partnership with your Executive and develop a deep understanding of your organisation.

Unlock a Special Offer! Grab our exclusive 25% discount now. Enter code SBP25 at checkout and get the deal for just £599 | $832 | €697. Don't miss out on this limited-time offer!
Every senior Assistant has the potential to work as a Strategic Business Partner
A Strategic Business Partner is a senior Assistant who is included in conversations regarding their organisation's future, mission, goals, and strategy. They work in step with their Executive, forging the strongest possible working relationship. And they understand the business better than anyone. In this course, we show you step-by-step how to do just that.
More than 200 Assistants and businesses worldwide have enrolled in The Strategic Business Partner
Transform your career and achieve greater success
Whether you want to start expanding the relationship with your Executive or take your current role to new heights, The Strategic Business Partner Online Course can help. The Course provides the crucial elements you need to succeed as a high-level Assistant.
Don't let budget approval stop you from enrolling
If you want to take the course but are unsure how to ask your Executive or L&D department to cover the cost of the course, don't worry, we have you covered. Download our course brochure and business case. Both documents have helped 100s of Assistants ask their organisations to cover the course fees and enrol in the Strategic Business Partner online course.
What will you learn in The Strategic Business Partner online course?
Through each stage of the course, you'll learn everything you need to know to create a seamless partnership with your Executive, understand how to be strategic in your thinking, and work at a high level with your leadership team.
Discover the fundamental aspects of partnership
Take an in-depth look at the basics you need in the Assistant role before considering moving into a strategic position.
Learn the tried and tested strategies high-performing assistants use to elevate themselves in the role. Create a new way of thinking and a new way of working that is strategic, business-focused and proactive.
Get crystal clear on how to work in partnership with your Executive.

Discover the questions you need to ask to accelerate trust and build rapport.
Craft your own strategic business partner role
Discover how to craft your role to work proactively rather than reactively. Create an effective job description aligned with the strategic needs of the business.
Understand the mindset shift Assistants need to take to be more intentional in their careers. Learn from case studies and gain practical tips on how Assistants can create the mindset required to succeed as a Strategic Business Partner.
Move away from being reactive into a proactive and strategic Assistant

Rethink your job description and yearly objectives.
Understand what you need to make the partnership work
Get crystal clear on the supervisory support you need to become a strategic asset and the part your Executive needs to play in making the partnership successful.
Use our expectation framework that will ensure you are always on the same page with your Executive

Leverage one-to-one meetings with your Executive to move strategic work and organisational objectives forward. 
Build your communication skills and cement relationships
Establish continuous communication with your Executive. Create an open and honest dialogue that is key to the success of your partnership.

Explore what it means to work within the inner circle. That is the team that operates around your Executive and influences their thoughts and decision-making.
Make your communications effective and impactful and influence your Executive and colleagues.

Learn techniques that will boost your confidence to see yourself as part of the inner circle and an equal to those working in that position.
Create impact in your role with strategic thinking
Create impact in your role and across your organisation. How does what you do as an Assistant have a meaningful impact on the business? Incorporate strategies into your work that move the needle and achieve greater success across their organisations. Increase your overall understanding of the business, take the initiative and be proactive.
Build strategic thinking while staying on top of your day-to-day tasks.

Ensure you are working on the right projects with our strategic impact template.
Build your reputation
Build a reputation that inspires confidence in the digital era. Discover the power of personal branding for Assistants and how to use networks to build your influence and get things done.
Learn how to operate in a fast-paced working environment and set boundaries to help alleviate unnecessary stress and burnout.
Redefine your thinking so your voice is heard and your opinions are sought-after.

Get the framework you need to build strong boundaries and have them respected by others.
Future-proof your career
Look to the future, how the role will change, and the skills needed to future-proof your career. Understand the future of the role, what it will look like, and how a Strategic Business Partner can operate in any organisation. Identify career options and what is possible for Assistants now that the office and business look very different.
Never miss an opportunity to thrive in the Assistant role.

Understand what is required to move into a strategic business partnership post-pandemic.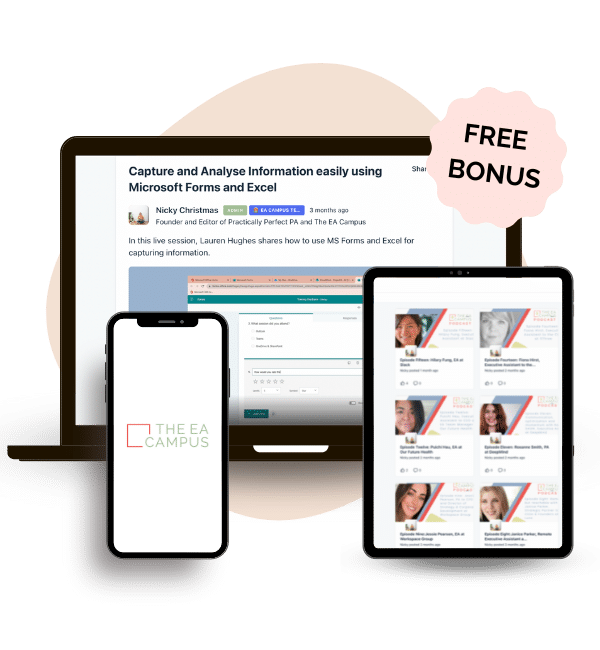 The Full Strategic Business Partner Curriculum
We give you the exact plan to move into a strategic business partnership role
MODULE ONE: What does it mean to be a Strategic Business Partner? Part one
Trust, loyalty, honesty and respect: An introduction to strategic partnerships (10:30)
How to build trust with your Executive
Building an effective relationship with your Executive
Building Rapport with your Executive (21:22)
WORKBOOK: Accelerating Trust with your Executive
EXERCISE: Are you ready to start building your partnership? Ten questions to ask yourself and your Executive (2:08)
TEMPLATE: 20 Questions to Help Build Rapport
TEMPLATE: 20 Questions to Help Build Rapport
BONUS: Rise up! How to excel as a Strategic Business Partner
MODULE TWO: Being Intentional – Crafting your own Strategic Business Partner role
Ripping up your job description and aligning your role with strategic business objectives (8:47)
Reviewing your job description
Moving away from tick-box administrative tasks to value-adding tasks (21:28)
WORKBOOK: Moving away from "tick box" administrative tasks
EXERCISE: Crafting your role – Your 90-Day Plan (7:58)
TEMPLATE: Creating SMART goals and objectives that align with your organisation's strategy
TEMPLATE: Job Description for a Strategic Business Partner
BONUS: Crafting your role masterclass with Shirwyn Weber (61:07)
What sets The Strategic Business Partner apart?
As a Senior Assistant who wants to transform into a Strategic Business Partner, you have to master two crucial areas. Firstly, you must learn the skills, strategies and tools to create a successful business relationship with your Executive. And secondly, you have to develop a better understanding of your organisation. The Strategic Business Partner Online Course is designed to tackle those two challenges head-on.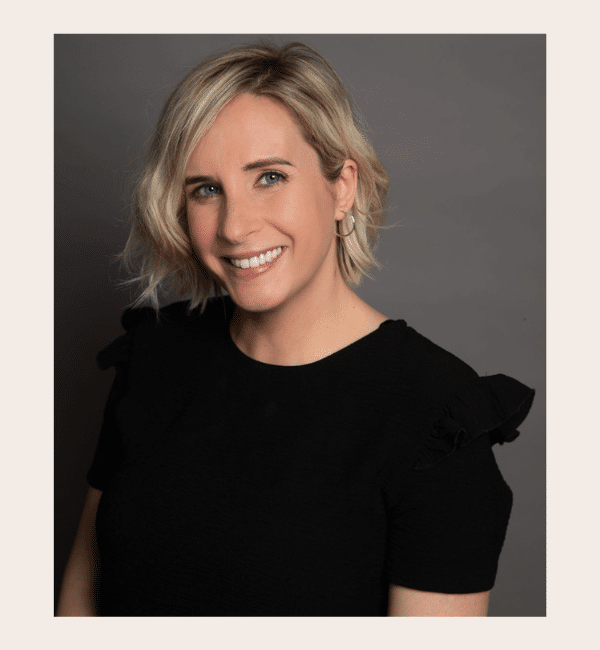 About the Head Coach
I'm Nicky. I launched Practically Perfect PA in October 2011. It has since become the go-to resource for Personal Assistants, Executive Assistants, Office Managers and Administrative Professionals at all levels of business seeking support, information and guidance in their chosen profession.
Practically Perfect PA offers practical tips, honest advice and career development support specifically for Assistants.
Since 2015 we have organised events, virtual summits and online courses for over 50,000 assistants worldwide. So it is fair to say the Assistant role has changed significantly, and I am so proud that Practically Perfect PA has been part of the journey for over a decade.
Have Questions? We have answers.
Get answers to make the best choice for you.
When does the course start and finish?
The course starts now and never ends! It is a self-paced online course – you decide when to start and finish.
What's the time commitment?
The online course contains 12 modules with over 20 hours of video content. Therefore, we recommend that students study a module per week and complete the course over 12 weeks.
What if I am unhappy with the course?
We would never want you to be unhappy! If you are unsatisfied with your purchase, contact us in the first 30 days, and we will give you a full refund.
Can my organisation pay by invoice?
Yes, get in touch with us. We will send you an invoice for the course. We also offer discounts for teams of Assistants.
How long do I have access to the course?
When you sign up for the training, you'll also gain lifetime access to all the downloadable resources and recorded video training. This way, you can revisit the course at your own pace and at your convenience.
Will the course work for me if I am outside the UK?
Absolutely! We have many Assistants from all over the world who have completed the course. The strategies you'll learn in The Strategic Business Partner Program are universally applicable.