The Assistant Mindset Online Course

Developing the mindset of a dynamic Assistant
Don't let another day go by without taking control of your career. Enrol in the Assistant Mindset Course today and reach new heights in the Assistant role.
Are you ready to unlock the secrets to becoming an exceptional assistant?
In the fast-paced world of executive support, we encounter a myriad of challenges. From handling difficult conversations with grace to managing up effectively, our success hinges on our ability to navigate these obstacles seamlessly. We must be the epitome of confidence, creativity, and dependability. People should feel comfortable confiding in us, and we must continually demonstrate initiative and innovation.
But here's the thing: developing the mindset of a dynamic Assistant isn't something that comes naturally to everyone. It requires a deliberate approach and a willingness to learn and grow. That's where the Assistant Mindset Online Course comes in!
More than 400 Assistants and businesses worldwide have enrolled in The Assistant Mindset Online Course
Are you ready to take your career as an Assistant to the next level?
Do you want to be one step ahead, confidently handling challenges and leading in your role? Welcome to the Assistant Mindset online course – your ultimate guide to developing the mindset of a dynamic Assistant.
Don't let budget approval stop you from enrolling
If you want to take the course but are unsure how to ask your Executive or L&D department to cover the cost of the course, don't worry, we have you covered. Download our course brochure and business case. The business case has helped 100s of Assistants ask their organisations to cover the course fees and enrol in the Assistant Mindset online course.
What will you learn in Assistant Mindset Online Course?
Through each stage of the course, you will gain the essential tools and knowledge to elevate your career as an Assistant. Our comprehensive course features insightful case studies from renowned Assistants, expert trainers, and influential thought-leaders. Each module is thoughtfully crafted to provide you with practical advice and actionable strategies that you can readily apply in your role, ensuring your professional growth and success.
Acquire a toolkit of proven strategies and essential skills
Adapt seamlessly to changing circumstances, allowing you to navigate unexpected challenges within the Assistant role with ease.
Acquire the skills to effectively manage shifting priorities, ensuring that you can prioritise tasks and responsibilities.

Cultivate a calm demeanour in the face of demanding schedules, enabling you to maintain focus and composure while exceeding expectations.
Master the art of assertive, professional communication
Communicate diplomatically and decisively, even in high-pressure situations, to ensure your message is delivered, understood, and received positively.
Gain invaluable insights on effectively navigating challenging conversations with finesse, enabling you to address sensitive topics with confidence and tact.

Build strong and meaningful relationships with colleagues, executives, and stakeholders by harnessing the power of effective communication, fostering trust, collaboration, and understanding.
Foster a Growth Mindset
Gain access to a diverse array of tools and techniques that will expand your skill set, equipping you to excel in your role and tackle new challenges with confidence.
Adjust to evolving demands and consistently deliver exceptional results that exceed expectations.

Transform into an exceptional Assistant who makes a lasting impact on the organisation.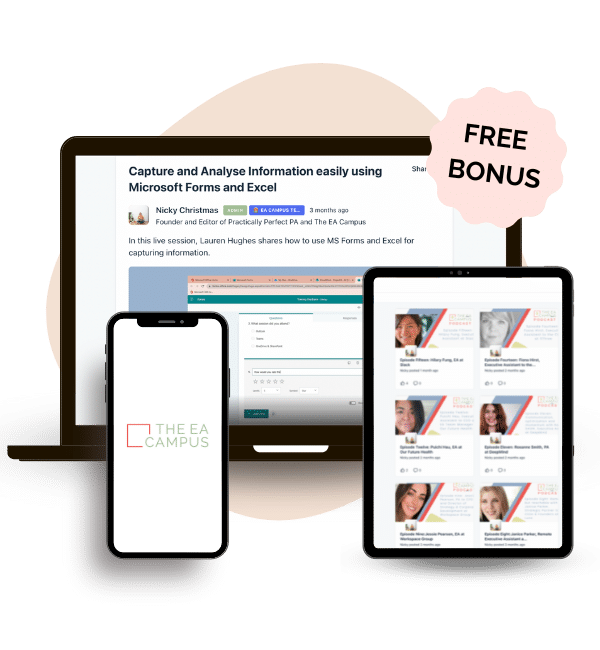 The full Assistant Mindset Online Course Curriculum
By enrolling in the Assistant Mindset Course, you'll gain access to a wealth of knowledge, practical exercises, and real-world examples that will empower you to thrive in your role. 
MODULE ONE: DEVELOPING A HIGH-PERFORMANCE MINDSET
Creating the right mindset for success in the Assistant role (21:47)
The psychology of performance (223:28)
Traits of a high-flying Assistant (23:31)
WORKSHEET: What are your core competencies?
CHECKLIST: Are you using these core competencies to enhance your work?
TEMPLATE: Personal development plan
TEMPLATE: SMART objective examples
WORKSHEET: SMART objectives
TEMPLATE: Email asking for feedback
BONUS: Rise up! How to excel as an Assistant (34.41)
MODULE TWO: OVERCOMING LIMITING BELIEFS AND SELF-DOUBT
Face your fears and build your confidence (6:55)
Overcoming imposter syndrome (31:01)
What is standing in your way? (15:04)
CHECKLIST: Identify and address negative thoughts
TEMPLATE: Request for additional responsibilities
BONUS: The importance of self-promotion (23:11)
MODULE THREE: BUILDING STRONG RELATIONSHIPS
Relationship fundamentals - discretion and trustworthiness
Managing and exceeding expectations (31:22)
Working in the inner circle and making your Executive successful (34:12)
Influencing the inner circle
CASE STUDY: How to impress your Executive
CHECKLIST: Building credibility as an Assistant
TEMPLATE: Questions that will help build rapport
TEMPLATE: Request for meeting with your Executive's direct reports
TEMPLATE: Agenda for collaboration meeting with the inner circle
BONUS: Building rapport and making connections (43:22)
BONUS: Managing up and building a solid partnership with your Executive (22:20)
MODULE FOUR: EFFECTIVE COMMUNICATION
How to communicate effectively in the Assistant role (23:02)
Speaking with authority and building your reputation
Understanding communication styles (21:47)
CHECKLIST: Communication protocols with your Executive
EXERCISE: The communication agreement with your Executive
TEMPLATE: Communication preferences
BONUS: Executive presence (34:23)
MODULE FIVE: OVERCOMING COMMUNICATION BARRIERS
Working towards resilience
How to master a difficult conversation (30:25)
Improving your decision-making (2:43)
TEMPLATE: Clarifying questions to set expectations
PROCESS: Managing conflicting priorities
BONUS: Taking initiative and being proactive (49:50)
BONUS: The opportunity in conflict (46:21)
MODULE SIX: PROBLEM-SOLVING AND DECISION-MAKING
Positioning yourself as a business asset
The road to strategic thinking (18:51)
Improving your strategic thinking (17:38)
Understanding strategy and adding value (19:28)
Problem-solving for Assistants
CHECKLIST: Making a decision
PROCESS: Building reliability by getting things done
MODULE SEVEN: GROWTH IN THE ROLE
Finding opportunities for growth (09:49)
How to make accountability a core part of the role
Setting goals that move your career forward
Self-discipline for Assistants
Level up and get unstuck (23:43)
Maximising your strengths and finding your niche (10:18)
TEMPLATE: Progression Plan
PROCESS: Working Under Pressure
BONUS: Finding purpose in your work
MODULE EIGHT: ADAPTABILITY AND RESILIENCE
Managing stress and building resilience (19:53)
Setting boundaries in the Assistant role (25:03)
PROCESS: Working under pressure
QUESTIONNAIRE: How adaptable are you?
What sets The Assistant Mindset online course apart?
As the role of an Assistant evolves, developing your mindset is crucial to future-proofing your career. The Assistant Mindset course equips you with the core competencies needed to become an invaluable asset within your organisation. Together, we will help you create the right mindset, empowering you to become an incredible and dynamic Assistant.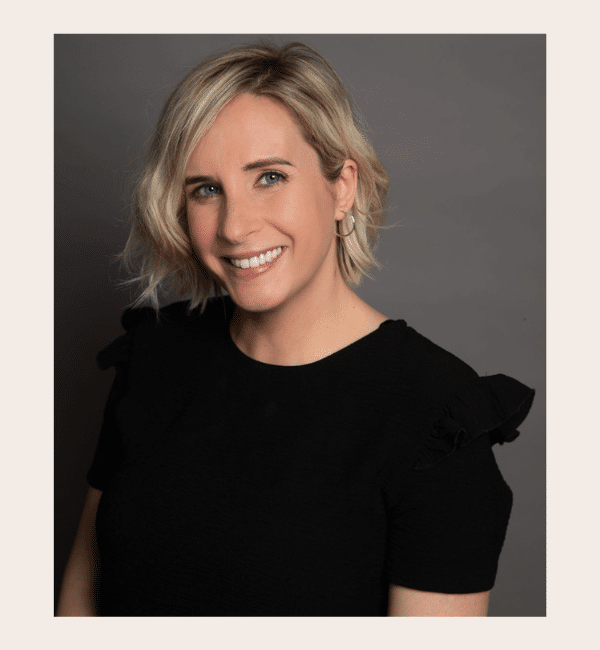 About the Head Coach
I'm Nicky. I launched Practically Perfect PA in October 2011. It has since become the go-to resource for Personal Assistants, Executive Assistants, Office Managers and Administrative Professionals at all levels of business seeking support, information and guidance in their chosen profession.
Practically Perfect PA offers practical tips, honest advice and career development support specifically for Assistants.
Since 2015 we have organised events, virtual summits and online courses for over 50,000 assistants worldwide. So it is fair to say the Assistant role has changed significantly, and I am so proud that Practically Perfect PA has been part of the journey for over a decade.
Have Questions? We have answers.
Get answers to make the best choice for you.
When does the course start and finish?
The course starts now and never ends! It is a self-paced online course – you decide when to start and finish.
What's the time commitment?
The online course contains 8 modules with over 10 hours of video content. Therefore, we recommend that students study a module per week and complete the course over 8 weeks.
What if I am unhappy with the course?
We would never want you to be unhappy! If you are unsatisfied with your purchase, contact us in the first 30 days, and we will give you a full refund.
Can my organisation pay by invoice?
Yes, get in touch with us. We will send you an invoice for the course. We also offer discounts for teams of Assistants.
How long do I have access to the course?
When you sign up for the training, you'll also gain lifetime access to all the downloadable resources and recorded video training. This way, you can revisit the course at your own pace and at your convenience.
Will the course work for me if I am outside the UK?
Absolutely! We have many Assistants from all over the world who have completed the course. The strategies you'll learn in the course are universally applicable.