The Assistant Essentials Online Course

Sharpen those essential Assistant skills
Develop the essential skills and competencies to confidently work in the Assistant role. No matter what your level or experience, this course will help equip you with everything needed for navigating executive tasks like an absolute pro.
The most comprehensive course for new and aspiring Assistant
Our course is designed to provide a comprehensive foundation for Assistants at any stage of their career, from those just starting to experienced professionals who want to refresh their skills and stay up-to-date with the latest best practices.

Whether you want to improve your time management, communication, or project management skills or learn how to handle more complex responsibilities such as event planning and project-based work, our course has everything you need to succeed as an Assistant. With world-class trainers and real-life scenarios, our Assistant Essentials course is the perfect investment in your career development.
More than 1000 Assistants and businesses worldwide have enrolled in The Assistant Essentials Online Course
Unlock and accelerate your potential
Whether you are starting your career or want to refresh your training, our Assistant Essentials course is a fantastic way to cover all those essential skills and tasks required to thrive in this role. Our in-depth curriculum provides new Assistants with all they need to settle quickly into their role while giving more experienced Assistants who want career progress a necessary refresher.
Don't let budget approval stop you from enrolling
If you want to take the course but are unsure how to ask your Executive or L&D department to cover the cost of the course, don't worry, we have you covered. Download our business case. The document has helped 100s of Assistants ask their organisations to cover the course fees and enrol in the Assistant Essentials Online Course.
What will you learn in The Assistant Essentials Online Course
Through each stage of the course, you will receive all of the tools and training you need to become a highly effective and successful Assistant. Our expert and professional trainers have designed our curriculum to ensure that every student walks away from this program with a deep understanding of the key skills, knowledge, and strategies required for success in this role.
Discover key techniques to elevate your performance
Our course teaches you how to develop effective relationships with your Executive, colleagues, key stakeholders, and clients, as well as key strategies and techniques to elevate your performance and stand out from the crowd.
You will have the skills necessary to handle strategic, advanced project-based work and add significant value to any organisation.
Develop strong communication skills to build effective relationships with clients, colleagues, and stakeholders.

Learn to handle complex, strategic projects and tasks that will help you stand out as a valuable asset to your organization.
Set yourself apart as a top-performing Assistant
Learn everything you need to know, from the traditional aspects of the Assistant role to the ever-increasing responsibilities like event management.
We also teach you how to master meetings, manage travel planning, and optimise email and calendar management, which is the foundation of the assistant role.
Gain a comprehensive understanding of the Assistant role and the latest best practices and tools to succeed in this ever-evolving field.

Learn advanced techniques for managing complex travel itineraries, event planning, and communication with high-level stakeholders.
Discover the fundamental aspects of partnership
We understand that the central part of the role is working with your Executive and creating a fantastic partnership while optimising their time.
Our course covers everything you need to set your partnership on the right course.
Learn how to communicate effectively with your Executive, anticipate their needs, and become a trusted partner in achieving their goals.


Develop strategies for optimising your Executive's time, managing priorities, and coordinating multiple projects, all while maintaining professionalism and confidentiality.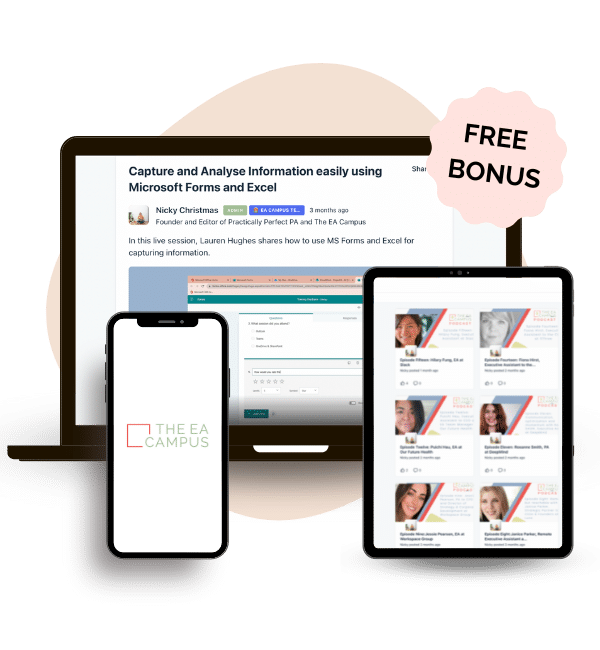 The Full Assistant Essentials Curriculum
Upon completion of the Assistant Essentials online course, you will have a high-level understanding of the essential executive assistant skills and expertise required for the role. 
MODULE ONE: Introduction to the Assistant Essentials Online Course
Welcome to The Assistant Essentials Online Course (2:07)
The Assistant Essentials Online Course Workbook
MODULE TWO: Advice for a new Assistant
Advice for a first-time Assistant
Five things to do when starting a new Assistant Role
Case Study: Starting a new Assistant role and what you need to know
How to thrive, not just survive as an Assistant (3:05)
CHECKLIST: First 30 days in the Assistant role
MODULE THREE: Essential Characteristics and Competencies
Confidence is key for Assistants (4:16)
Stepping out of your comfort zone (3:46)
Discretion at work for Assistants
Improving your attention to detail
How to add value as an Assistant (4:33)
Working on your own initiative and being proactive as an Assistant
CHECKLIST: What are your key competencies?
CHECKLIST: Are you using these soft skills to enhance your work?
BONUS: Anticipating needs (24:09)
BONUS: Effective communication (31:32)
MODULE FOUR: Time Management and Organisational Skills
10 habits of a highly organised Assistant
Filing systems for the organised Assistant
Managing the flow of information (6:08)
TEMPLATE: Standard daily routine for an Assistant
BONUS: Dealing with and remembering requests (34:29)
MODULE FIVE: Core Administrative Tasks
What tasks should Assistants manage?
Greeting guests and making a great first impression
How to sign off correspondence on behalf of your Executive
Managing vacation records
Questions to ask your Executive before conducting research
TEMPLATE: Capturing messages
TEMPLATE: Vacation records
QUESTIONNAIRE: Initial Questions to ask a new supplier
MODULE SIX: Managing Meetings and Writing Minutes
What to think about before organising a meeting
Effective Committee meeting management
WORKFLOW: Managing board packs and supporting papers
Taking minutes - the essential requirements
The five questions to ask before you take minutes at a meeting
CHECKLIST: Setting up the meeting space
TEMPLATE: Meeting email templates
CHEAT SHEET: 100 descriptive words to incorporate into your minutes
CHECKLIST Are you prepared to attend this meeting?
BONUS: Managing effective meetings (19:53)
MODULE SEVEN: Travel Planning
Managing travel plans for your Executive
Get the best hotel rates for your Executive
Booking a hire car for your Executive's trip
Managing your Executive while they are on the road
Questionnaire: How does your Executive like to fly?
TEMPLATE: Travel profile for your Executive
TEMPLATE: Travel intinerary
BONUS: Keeping your Executive safe when they travel
MODULE EIGHT: Event Management
The event management process (15:02)
Event objectives and the questions you should be asking
Negotiating with a venue (14:58)
EXAMPLE: Organising a team-building event
TEMPLATE: Events management budget
CHECKLIST: Managing an event from start to finish
EXAMPLE: Organising a team-building event
CHECKLIST: Conducting a venue visit
MODULE NINE: Email Management
The initial conversation with your Executive (2:44)
Proactively managing emails
TEMPLATE: Email templates for common requests
CHEAT SHEET: 40 Outlook hacks and keyboard shortcuts
CHEAT SHEET: 40 Gmail hacks and  keyboard shortcuts
BONUS: Making the most of Microsoft Outlook (28:56)
BONUS: Making the most of Gmail (26:47)
MODULE TEN: Calendar and Task Management
Managing an Executive schedule (19:49)
What meetings should make it into your Executive's schedule
Streamlining your Executive's recurring meetings
These tasks should always be managed by an Assistant
TEMPLATE: Standard replies to meeting requests
BONUS: Managing momentum and moving tasks forward (20:47)
MODULE ELEVEN: Building the partnership with your Executive
Developing trust and rapport with your Executive (4:01)
What meetings should you have with your Executive?
Planning the one-to-one meeting with your Executive (11:04)
Working remotely with your Executive (28:48)
Working with multiple Executives (25:28)
Case Study: The EA and CEO of Brewdog (30:12)
Case Study: The EA and the CEO of Arm (31:48)
TEMPLATE: Communication Protocols with your Executive
TEMPLATE: One-to-one meeting agenda
BONUS: Working in the inner circle and making your Executive successful (34:18)
MODULE TWELVE: Common Projects for Assistants
Project management basics (32:54)
Preparing presentations (15:47)
Managing the office move (23:12)
Onboarding a new Executive (17:43)
CHECKLIST: Managing an office move
What sets The Assistant Essentials Online Course apart?
The Assistant Essentials Online Course is designed to cover all the essential skills required by new and experienced Assistants to succeed in their roles. From best practices and the latest tools to high-level understanding, we teach you everything you need to know to become a C-suite Assistant to a Senior Executive.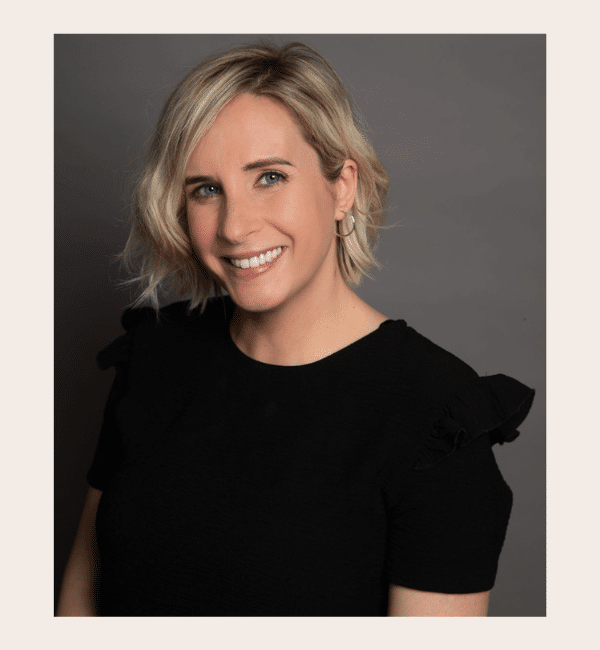 About the Head Coach
I'm Nicky. I launched Practically Perfect PA in October 2011. It has since become the go-to resource for Personal Assistants, Executive Assistants, Office Managers and Administrative Professionals at all levels of business seeking support, information and guidance in their chosen profession.
Practically Perfect PA offers practical tips, honest advice and career development support specifically for Assistants.
Since 2015 we have organised events, virtual summits and online courses for over 50,000 assistants worldwide. So it is fair to say the Assistant role has changed significantly, and I am so proud that Practically Perfect PA has been part of the journey for over a decade.
Have Questions? We have answers.
Get answers to make the best choice for you.
When does the course start and finish?
The course starts now and never ends! It is a self-paced online course – you decide when to start and finish.
What's the time commitment?
The online course contains 12 modules with over 20 hours of video content. Therefore, we recommend that students study a module per week and complete the course over 12 weeks.
What if I am unhappy with the course?
We would never want you to be unhappy! If you are unsatisfied with your purchase, contact us in the first 30 days, and we will give you a full refund.
Can my organisation pay by invoice?
Yes, get in touch with us. We will send you an invoice for the course. We also offer discounts for teams of Assistants.
How long do I have access to the course?
When you sign up for the training, you'll also gain lifetime access to all the downloadable resources and recorded video training. This way, you can revisit the course at your own pace and at your convenience.
Will the course work for me if I am outside the UK?
Absolutely! We have many Assistants from all over the world who have completed the course. The strategies you'll learn in the course are universally applicable.